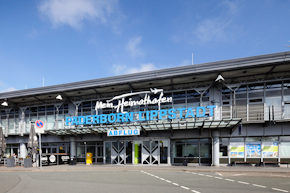 Out of the front door – straight into the plane
For three million people in its core area and 5.5 million in its extended catchment area, Paderborn-Lippstadt Airport is their airport "home". Beyond that, it also ensures "next-door" mobility for one of Germany's strongest economic regions, and in this respect the airport plays an important role in the air transport system of the entire state of North Rhine-Westphalia.
We are committed to the people, companies, public authorities and institutions in our region. We understand ourselves as their partner, service provider, and driving force when it comes to private and commercial air transport that doesn't require covering long, resource-intensive distances just to use it! Our proximity to the people of East Westphalia-Lippe and southern Westphalia as well as neighboring cities and districts in southern Lower Saxony and northern Hesse make us the home airport for all the leisure and business travelers who depart here for destinations near and far.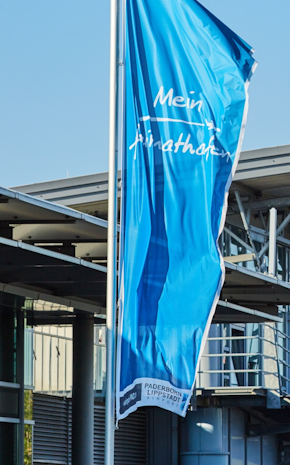 Home ist trust and closeness
Strengths that characterise us
Home is trust and closeness, and these are values that characterise us, too. We set against the anonymity of "assembly-line" handling in today's air transport through individuality in our services, turning passengers into welcome guests. For us, proximity is more than just a geographic factor - that is, the ease and speed with which our passengers reach us on roads that are rarely crowded. We also understand it as the personal touch we offer them at all times before they take off and after they land. Instead of size, we offer a convenient, transparent layout, short distances and fast processes - all of which are elements in our ambition to take the lead in customer friendliness and closeness in rankings of German airports. And we solidify this position by putting the wishes and needs of our customers at the heart of everything we do. To ensure the freedom we need to create customer-centric services, we rely on modern corporate leadership with a flat hierarchy and minimal bureaucracy. This allows us to simplify many company processes and gain time that we can spend on our customers.
You might also be interested in these pages: