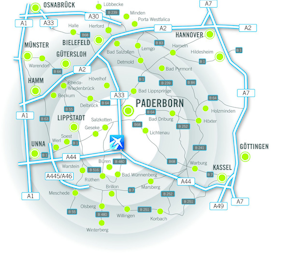 Easy access to the airport
Paderborn-Lippstadt Airport is located very close to the country´s main road network. With just a stone's throw away from the motorways A33 and A 44 you will find excellent road links making access easy and very convenient. The airport is clearly signposted. Just follow the directions.

From East or West

Travelling anywhere along the A 33 - the motorway running from Bielefeld to Brilon, take the exit towards Salzkotten. Then follow the B1 onwards until the airport is signposted and exit in the direction of Wewelsburg. Turn left at the junction and take the first exit in the roundabout. This will get you onto the K37 leading to the airport.

From South or North

Coming from Dortmund or Kassel on the A44, take the exit towards Büren. Follow the directions towards Wewelsburg. Now travelling on the K37 will take you through to the airport
Bus transfers
Information about bus transfers
For rail access to Paderborn-Lippstadt Airport please use Paderborn rail station. InterCity (IC) and InterCityExpress (ICE) trains connect the town of Paderborn to the mainline rail network and rail hubs such as Kassel and Hamm.
Local railway traffic connects Paderborn HBF (Hauptbahnhof = main station) with Bielefeld, Altenbeken, Hanover, Detmold, Warburg, Kassel, Soest, Hamm, and Münster.
Services available 24h a day. There are plenty of taxis available. You will find the taxi ranks right outside the terminal. If you wish to prebook a taxi just call one of the following companies.
You might also be interested in these pages: