Unaccompanied minors
What you need to know, if your child travels alone.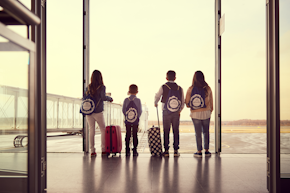 Travel preparations for children travelling alone
While purchasing your ticket, you must declare that your child will be travelling alone. Travel agents often hand out the official supervision form and a small shoulder bag for your child. In some cases the form and the bag are handed over at the check-in desk.
These information are necessary for the supervision form:
Name and age of child
Flight-number, date and destination
Name, address and telephone number of the person accompanying the child to the airport
Name, address and telephone number of the person collecting the child at the destination
Necessary documents for check-in counter
Airline ticket or print-out of the etix® reservation and the supervision form
Valid passport/child's identity card
Visa for destination country
Travel insurance certificate (if available)
Information on allergies (recommended)
Receipt for pre-paid fees for the care service, if applicable
Declaration of consent from parents or legal guardians that their child may travel unaccompanied (depends on destination)
You might also be interested in these pages: