Hangar II – Legends in the air
Another historical highlight at Paderborn-Lippstadt Airport
You've always been interested in historical airplanes? Then live your dream and discover Hangar II
Hangar II at Paderborn-Lippstadt Airport offers a fantastic base for the preservation and restoration of historical airplanes. In May 2011 another Hangar - the Quax Hangar - opened and has more than 40 airplanes to show. Hangar II is financed by private owners. The builiding connects modern technology with contemporary public areas.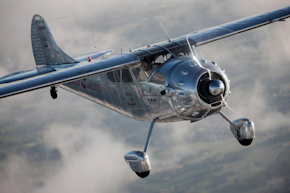 Modern, isolated and with the newest technology
Total area: 1.400m²
The Hangar II is always heated, so that the airplanes are always in a good surrounding.
Owners can go to their airplanes anytime, since the Hangar II is not in the security area.
Businessarea with conference rooms for up to 12 people und a kitchen area for pilot briefings and short meetings.
You might also be interested in these pages: