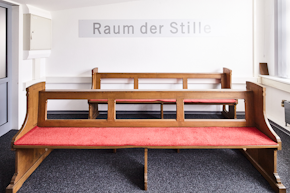 Ecumenical room and muslim prayer room
At our airport we offer for our catholic, protestant and syrian-orthodox passengers a room of silence.
As an international airport we have many passengers from different cultures and religions. We want to give the opportunity of a prayer room. Muslim passengers can use the muslim prayer room. It is parted for men and woman. Moreover there is a foot washbasin.
The rooms can be used by all passengers, visitors and employees of the airport throughout the day. The rooms are located on first level of the terminal.
You might also be interested in these pages: