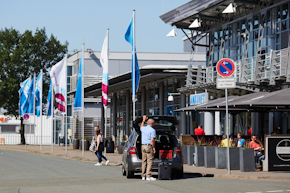 You can reach Paderborn-Lippstadt Airport easily by car. Walking distance from the four parking lots to the terminal is max. four minutes.
If you want to pick up someone or drive someone to the airport, we offer 60 minutes of free parking on P1 right in front of the terminal.
Due to maintenance, parking areas P1, P4 and the paragon parkhaus are currently available. Online reservations are not possible.
You might also be interested in these pages: